The Odyssey Bracelet Sky Stone (Track A Dolphin)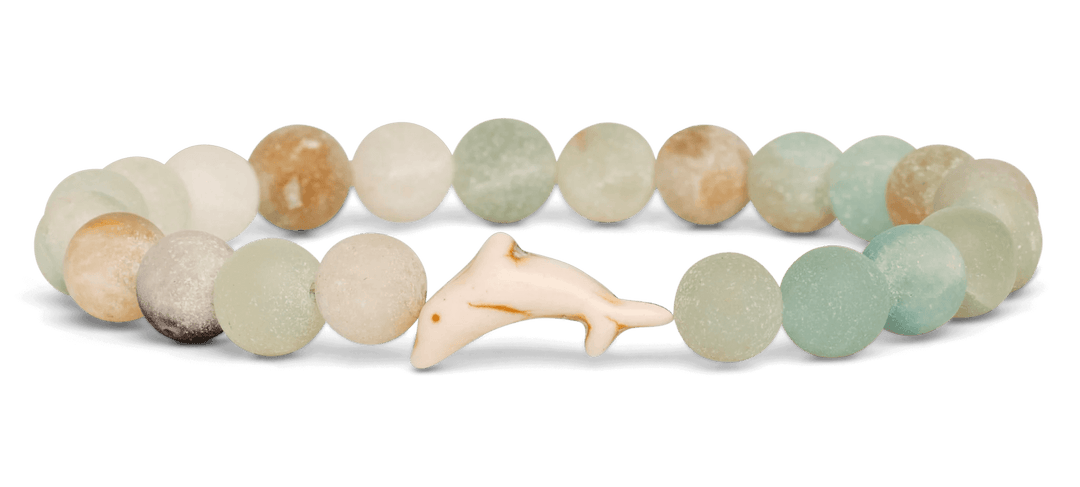 Each bracelet comes with a different dolphin to track, so add as many as you would like!
Learn your dolphin's name and get their picture

Gain knowledge of their amazing stories and best of all...

Follow their incredible odyssey on an exclusive tracking map

In partnership with the FIU Marine Conservation Ecology Lab
One Small Bracelet.
One Big Mission.
Why are dolphins tracked?
Per our partners at the FIU Marine Conservation Ecology Lab, dolphins are tracked to better understand their movements and predict how environmental changes and human activities affect their populations! The specific goal of this project, being conducted in collaboration with their partner organization, the Sarasota Dolphin Research Program, is to learn about the health and movements of dolphins residing over the offshore waters of the West Florida Shelf. The primary dolphin species inhabiting this more than 100-mile-wide continental shelf are bottlenose and Atlantic spotted. Prior to this project, little was known about their ranging patterns or their health in these offshore waters.
How are dolphins tracked?
The dolphins are tagged with satellite-linked transmitters that report their locations and other data every-other-day. The very small and hydrodynamic tag is attached by means of a small pin through the trailing edge of the dorsal fin, and comes off the fin after the end of the battery life of the tag.
Does tracking harm the dolphin?
Per our partners at the FIU Marine Conservation Ecology Lab: "No, otherwise we would not want to do it, nor would we be allowed to do it, as these are federally protected species. The research is being conducted under a Marine Mammal Protection Act permit issued by NOAA-NMFS to the Sarasota Dolphin Research Program, and through Institutional Animal Care and Use Committee approvals.  The tag design has been tested on hundreds of dolphins over more than 10 years and has no effects on the movements and behavior of the tagged dolphins." 
Free shipping for orders over $100.
$7.95 flat rate shipping for all orders under $100.
Free local pickup in Fircrest or Gig Harbor!