Gatherings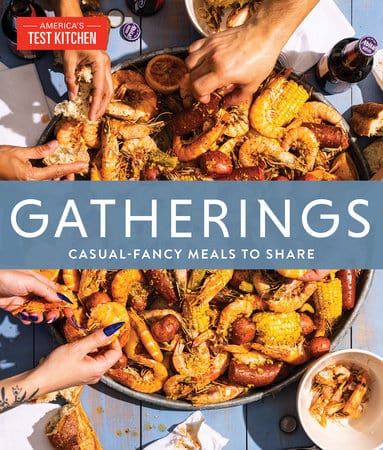 Gatherings
Regular price
$ 3500
$ 35.00
The cooks of America's Test Kitchen share how they entertain at home, with 140 recipes from simple to showstopping and airtight planning strategies

Toss out old rules of getting together and throw a dinner party so memorable and fuss-free that everyone will want to repeat it— even the host

It's time to get excited about entertaining again. The cooks of America's Test Kitchen are shaking up the notion of what a dinner party is all about, stepping away from the test kitchen to reveal their favorite ways to entertain friends and family and sharing an all-new collection of personal recipes. After all, professional cooks want to chill out when hosting at home, just like everyone else.


Be Casual (but Fancy):

 

Grill expert Morgan Bolling transforms a grill-smoked pork butt into the star of a giant nacho spread. Avid gardener Jack Bishop showcases late-summer produce in a whole new light for a simple pasta and salad dinner. Matthew Fairman urges everyone to dig in with their hands to his Viet-Cajun shrimp boil.
Get Playful:

 

Stephanie Pixley's dumpling dinner easily morphs into a make-your-own-dumpling party. Amanda Luchtel's vegan-optional hot dog spread features smoked carrot dogs and loads of festive toppings. Mark Huxoll's hearty Oktoberfest is a blast any time of year.
Go All Out:

 

Joe Gitter pays homage to his heritage with a proper British picnic. Leah Colins does the same with her South Philly Nonna's Sunday porchetta abbondanza. Steve Dunn has a swooningly romantic dinner that starts with cocktails and smoked salmon kettle chip "blini" and ends with a make-ahead Napoleon that looks right out of a pastry shop.
Up Your Game:

 

Cooks share all their pro tips, too, including game plans to achieve each menu and advice on shopping, make ahead, setup, and serving—all the logistical info for a fun, hitch-free gathering.
Mazimize Quality Fun Time:

 

Discover the cooks' favorite store-bought hacks for pulling together pre-dinner nibbles (and desserts), for planning drink selection and quantities, and for responding creatively when asked, "What can I bring?"