Bruno's Cookbook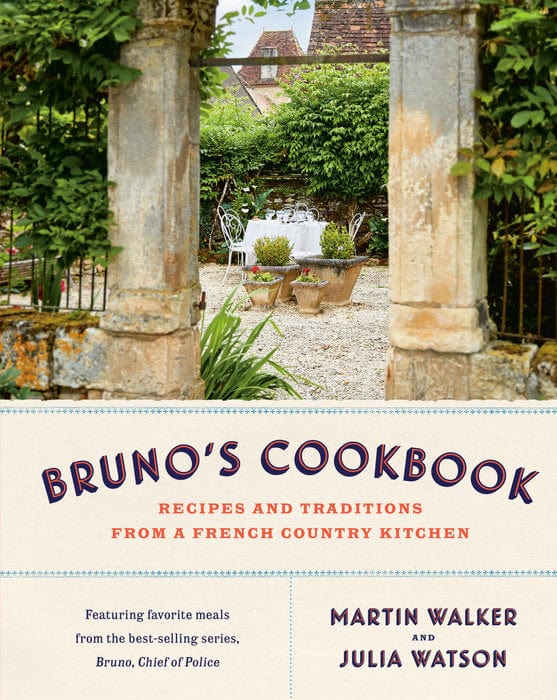 Bruno's Cookbook
Regular price
$ 4000
$ 40.00
A sumptuous French cookbook that immerses readers in the delectable countryside cuisine of the Périgord region and featuring favorite meals from the best-selling series — from Roasted Tomato Tapenade and Tarragon Chicken to A Most Indulgent Chocolate Cake — by the author of the beloved Bruno series, Martin Walker, and his wife, Julia Watson.

Bruno courrèges, the protagonist of martin walker's internationally acclaimed mystery series, is not only the local police chief of the idyllic French village of St. Denis—Bruno also happens to be an impassioned amateur chef. In this delightful cookbook, the culinary and cultural inspiration behind Bruno's fictional world comes to life. Featuring favorite meals from the best-selling series, local recipes, charming anecdotes, and a history of the novels' French setting, Bruno's Cookbook invites readers into the bucolic life of Walker and his wife, Julia Watson, and showcases their passion for the Périgord region's rich cuisine.

Brimming with truffles and pâté, Bruno's Cookbook features more than 90 recipes, including:

Red Onion Tarte Tatin (Tarte Tatin aux oignons rouges)
Gratin of Mussels with Parsley and Garlic (Gratin de moules)
Duck Breast Fillets with Honey and Mustard (Aiguillettes de canard au miel et à la moutarde) 
Confit Potato Fries, Sarlat- Style (Pommes de terre à la sarladaises)
Walnut Meringue Cake (Gâteau meringué aux noix)
Homemade Blackcurrant Liqueur (Crème de cassis)

Also included is a new Bruno short story, "The Question of Chabrol." A feast for the senses,

 

Bruno's Cookbook

 

is a gorgeously illustrated edition that transports readers to France's heartland.