Air Fryer All Day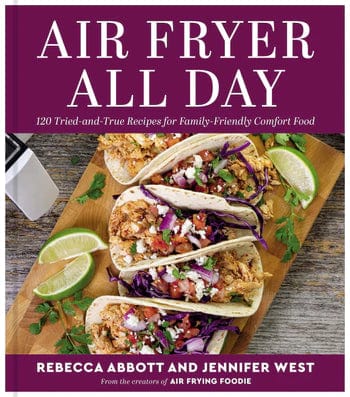 Air Fryer All Day
Regular price
$ 2999
$ 29.99
From the creators of the mega-popular blog Air Frying Foodie, 120 easy, delicious, and crowd-pleasing air fryer recipes.
The air fryer has become an essential appliance, gracing counters in a majority of kitchens in the United States. As more home cooks have come to depend on this amazing gadget, they've needed to turn to trusted sources and online communities for tips, tricks, and simple, dependable recipes. Their number-one destination? Jennifer West and Rebecca Abbott's hugely popular website, Air Frying Foodie, in addition to their Facebook group, Easy Air Fryer Recipes.
What their millions of loyal followers know is that they can depend on Jen and Becky's expertise as well as their creativity. Because as the go-to air fryer authorities, they understand that the air fryer isn't just for party foods anymore—it's for getting quick, healthy, inexpensive, complete meals on the table. 
In Air Fryer All Day, Jen and Becky take their recipes from the web to the page for the first time, sharing 120 family-friendly air fryer meals for breakfast, lunch, and dinner—plus dessert—often in less time than it takes to preheat your oven and with minimal cleanup. These include foolproof, feel-good dishes like:
Spinach and Feta Egg Bites
Enchilada Quinoa Casserole
Chicken Parm Bites
Country-Style Ribs
Vegetable Pot Pie
Bacon-Wrapped Shrimp
Brownie Baked Alaska
Whether you've been an air fryer devotee for years, or are just getting started, Air Fryer All Day is the only cookbook you'll need.