LAMY AL-Star Fountain Pen - Whitesilver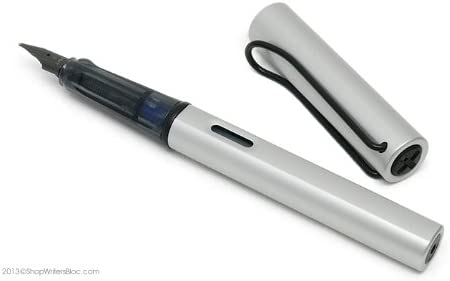 LAMY AL-Star Fountain Pen - Whitesilver
Regular price
$ 4700
$ 47.00
Aluminium pen

Stainless steel nib

Ergonomically shaped grip area

Supplied with LAMY T 10 black ink cartridge

Compatible with LAMY Z28 converter
Those who use the LAMY AL-star appreciate the extraordinary lightness of its robust yet durable material. Its transparent grip also supplies a revealing look at the inner workings of the ink feed. A combination of materials which unites robustness and elegance, this series offers plenty of surprises with special editions in modern, lifestyle-oriented colors – inspiring writers to show their contemporary individuality with this accessory.

A fountain pen is the right choice whenever you want to put pen to paper in your most beautiful handwriting. Designer fountain pens from Lamy stand out for their clear design language, excellent workmanship "made in Germany" and high level of comfort. Equipped with a high-quality stainless steel or gold nib, they get the very best out of your handwriting.
The timelessly modern form of fountain pens from Lamy makes then stylish companions for any occasion.