Bit-Sized Parenting: Your Baby's First Year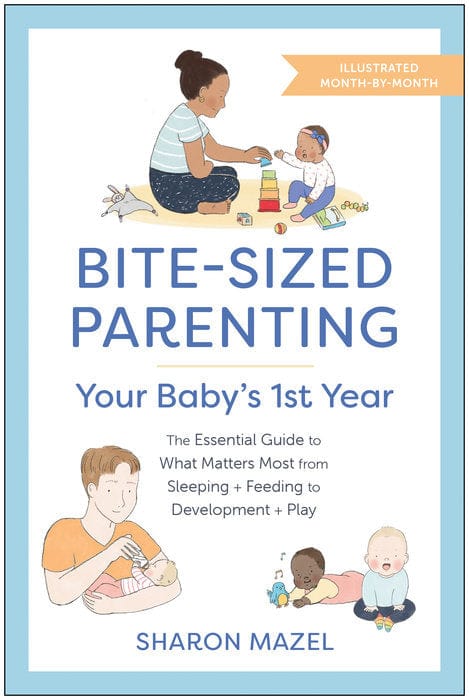 Bit-Sized Parenting: Your Baby's First Year
Regular price
$ 2495
$ 24.95
The most essential, evidence-based advice for baby's first year in an easily digestible and full-color illustrated format designed for today's busy parents

Congratulations! You have a new baby. But what you don't have is a lot of time to comb through the overwhelming amount of information on caring for that baby.
 
In Bite-Sized Parenting, Sharon Mazel, one of America's most trusted parenting experts, presents the latest, most practical science-backed advice that new moms and dads need most, without judgment and in an engaging visual format.
 
Bite-Sized Parenting is designed to make parenting in the first year less complicated and stressful. Its month-by-month format and full-color illustrated infographics—nearly 100 in all—are filled with expert medical, behavioral, nutritional, and developmental details aimed at empowering parents to care for their little ones with calm and confidence.
 
Strapped for time? Spend a few minutes with the bite-sized overviews for targeted advice, tips, and strategies you can use right away. Want to dig deeper and learn more? Read the "A Closer Look" sections for an in-depth dive, with more nuance, guidance, and background on each must-know topic. 

Each month, readers will learn:

Your baby "by the numbers": expected ranges for your baby's sleep times, feeding amounts, weight gain, and more
Age- and stage-appropriate guidance on feeding and eating, naps and night-time sleep, baby care and playing, and more
How to tackle common first-year challenges, including soothing a crying baby, recognizing hunger and sleep cues, teething and spitting up, starting solids and gagging, feeding and sleeping challenges, stranger anxiety, and more
Expert advice for tummy time, reaching motor milestones like rolling over, sitting, and crawling, stimulating baby's brain, boosting language development, and more
Support for how

 

you

 

may be feeling in your baby's first year—with reassurance that you're not alone
 
The perfect gift (for yourself or someone else),

 

Bite-Sized Parenting

 

offers the key information new parents need, with warmth, support, and encouragement.