The BBQ Companion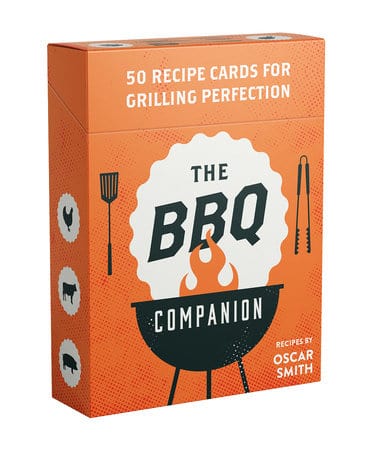 The BBQ Companion
Regular price
$ 2495
$ 24.95
50 recipe cards for grilling perfection
Fire up the grill and get your tongs ready to start flipping this deck's fifty delicious barbecue recipes.

The BBQ Companion is your guide to grilling up a great time—just pull out a card and get cooking in the great outdoors. With fifty recipes in the deck, it's got you covered for chicken, beef, lamb, pork, seafood, and veggies, as well as options for side dishes and even desserts.

In the mood for a classic? Try a barbecued steak with béarnaise sauce, grilled buttermilk chicken, or sticky beef short ribs with bourbon-laced BBQ sauce. Or, if you're looking for something different, there's Korean bulgogi tofu, haloumi burgers with peperonata, or rum-spiked barbecued banana boats. Each card comes with a different recipe, with enough choices to keep you cooking all summer. So, just shuffle the deck and get grilling.

Other recipes include:

Grilled beef fajitas with salsa & guacamole             
Brazilian cachaça chicken skewers  
Fiery lemongrass chicken wings                    
Pork tenderloin with maple, ginger & orange glaze  
Southern-style baby back pork ribs  
Spiced fish tacos with chipotle sauce           
Louisiana prawn po'boy     
Lobster tail & salad sliders 
Grilled lamb loin with anchovy & garlic butter         
Chermoula lamb shoulder with garlic & tahini yogurt                 
Argentinian beef with chimichurri   
Thai chile–coconut surf & turf skewers       
And Japanese okonomiyaki